(3) Produce Quality Communication Materials and Events: At minimum, you need to create high-quality documents that clearly explain and illustrate label formats, data requirements, specifications, and other pertinent information about labeling and/or RFID. Do not assume that just because the requirements make sense to you, they are clear to vendors. Get second opinions.
Most companies now combine documents with "webinars" of some kind where the requirements are explained and there is the opportunity for vendor Q&A.
Again, test these materials with vendors; don't replicate mistakes of others who spent time and money to produce materials, only to discover, to their embarrassment, that vendors found key information was missing or confusing. Then follow up. Don't wait for vendors to call you, because most of them won't.
(4) Involve the Vendor Sales Team: Don't restrict communication to the vendor's operations or technical personnel. Compliance will be much faster when the requirements are quickly perceived as a sales issue.
One major retailer's first attempt at a compliance program went nowhere when the initial program mailing went to its vendors' EDI coordinators. They promptly filed it away for future reference. But when the message was repeated later to the suppliers' quota-carrying account reps, the vendors paid attention.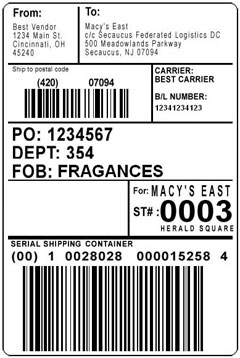 (5) Implement Mandates in Manageable Waves: Unless your vendor base is extremely small, don't try to implement the program with all your suppliers at once.
Instead, implement in smaller waves of suppliers. It allows you to provide communication and support, and to deal with the many unexpected issues on both ends that inevitably arise. "Big Bang" simply never works. Many retailers have learned this lesson the hard way.
(6) Include Deadlines and Penalties: It may be unpleasant, but, in truth, compliance is usually difficult to enforce without at least a medium-sized stick. As Wal-Mart learned with its RFID "mandate," companies that announce program requirements without deadlines and penalties quickly find that suppliers often don't take the mandates seriously, hoping the programs will just go away.
Typical penalties include per-piece handling charges for improperly labeled items, but many options exist. Some take a more hard line, others a softer one.
Don't set unrealistic deadlines, however. Almost 20 years ago, KMart initially set deadlines of less than six months for both container labeling and Advance Ship Notices, but found that most vendors could not possibly make the necessary system and operational changes required that quickly. In the end, the unrealistic deadlines actually set the program back.
A phased-in approach usually makes sense, where there is a requirement "deadline," but a grace period of perhaps three months before penalties set in.
Software vendors such as Compliance Networks offer tools to help companies manage the process of whether vendors are meeting requirements.
(7) Be Very Sure you are Ready Internally: You may be tempted to initiate the compliance program while making the necessary internal system enhancements, but do so with caution. This is especially true if the plan calls for ASNs in conjunction with container labeling or RFID, since this involves greater software development. Nothing irritates a vendor more than to go through hoops to meet requirements by the deadline, only to learn that their customer's systems are not yet in place.
(8) Require Samples and Approval: Include an approval process in which vendors send label samples or tagged product so that you can review and sign off for content and scannability/readability. Many smaller vendors lack the sophistication or tools to know if they are generating bad bar codes or RFID tags. Don't wait for live shipments to arrive at your dock to discover a problem.
(9) Designate an Accessible Information Resource: Identify an accessible program champion at your company who can answer questions from suppliers. Companies with large vendor bases might consider a "help desk" approach. While "FAQs" on the web can help, there is no substitute for a live, knowledgeable human being.
(10) Involve Technology Vendors with the Compliance Experience: Many bar code and/or RFID vendors or system suppliers have helped companies implement compliance programs. Not only are they likely to have suggestions that could make yours a better program, but their solutions will speed merchandise vendor implementation in most cases. The supplier acts as a third-party catalyst and reduces vendor time to search for a solution.
Often, companies are leery of appearing to be too "tight" with given vendors, but history shows these types of partnering arrangements add resources and speed vendor on-boarding.
Following these 10 best practices will undoubtedly smooth the supplier on-boarding process for bar code/RFID compliance programs and, ultimately, reduce the time to results.
What do you think of our list of compliance program best practices? What would you add? Let us know at the Feedback button below.
SCDigest is Twittering!
Follow us now at https://twitter.com/scdigest