"Predictive Analytics" is hot right now - but what does that term really mean?
Well, the reality is there are a number of definitions, and the approach can be used in many areas not only for supply chain but business in general.
That said, a Videocast last week on our Supply Chain Television Channel took a good look at what predictive analytics is all about in a demand planning context, especially in the consumer goods to retail sector. That broadcast featured Mark Krupnik, CEO of Retalon, which provides predictive analytic solutions for forecasting, inventory management, replenishment and more, and Greg Holder of Compliance Networks, a provider of compliance management and vendor performance management solutions that also includes predictive analytic capabilities.
The two companies created an "infographic" coming out of the Videocast that explains the concept nicely, as shown in the chart below.
The main point here is that there are a large number of factors that impact future demand and that - according to Krupnik - those factors are usually not well addressed in traditional statistical forecasting systems. The infographic shows a number of these types of factors, from "lost sales" due to out-of-stocks to pricing changes to promotions and more. Predictive analytics on the other hand, he said, are inherently built to consider all of these factors in developing a forecast.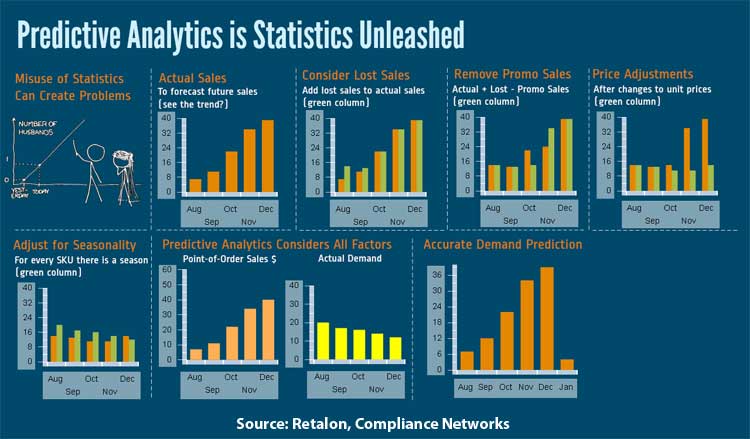 The example Krupnik used in the Videocast that forms the basis of this chart was intentionally exaggerated to make a point, but shows that despite the fact that sales seem to be rising, in reality, when removing the effects of these other factors, demand is actually declining. This would be very difficult to see in a traditional system, Krupnik argues.
You can learn more by watching the on-demand version of the broadcast and/or downloading the slides, the links to which can be found here: Predictive Analytics and Perfect Logistics Execution - The Future of the Consumer Goods to Retail Supply Chain. Part 2 of the two-part series will be broadcast on Oct. 23 - look for email notification soon, or send us an email.
Any Feedback on our Supply Chain Graphic of the Week? Let us know your thoughts at the Feedback button below.