While the trend is still uncertain, evidence continues to mount that there really is something substantial underlying predictions that manufacturing will start returning to US soil, perhaps even leading to a manufacturing "renaissance" over the next few years.
Before we get to our graphic of the week that adds another piece of data to the equation, we will note that SCDigest is supporting a new and important research project being undertaken by MIT on US manufacturing, with a special focus on reshoring. We are really asking for your help in this study by taking the survey, the results of which we can say will be of interest to US government officials relative to trends and what policies might be implemented to support US manufacturing.
Survey participants who complete complete the survey by June 30 will receive a complimentary registration to the Forum's July Conference - a $2000 value. All survey respondents will also receive a copy of Professor David Simchi-Levi's important research paper "Made in America: Rethinking the Future of US Manufacturing."
All responses are COMPLETELY CONFIDENTIAL, and will only be used to generate summary results across all respondents.
The survey, which will take 12-15 minutes, can be found here: Go to US Manufacturing Survey Home.
The graphic below is just another piece in a growing body of evidence that the reshoring trend is real.
It comes from the quarterly "State of the Freight" report from the Wall Street analysts at Wolfe Trahan, which is based on survey responses from several hundred shippers. In the recently released report for Q2, based on a end of Q1 survey, the number of companies saying they are interested in reshoring and nearshoring jumped significantly.

Expectations for Reshoring Rising Substantially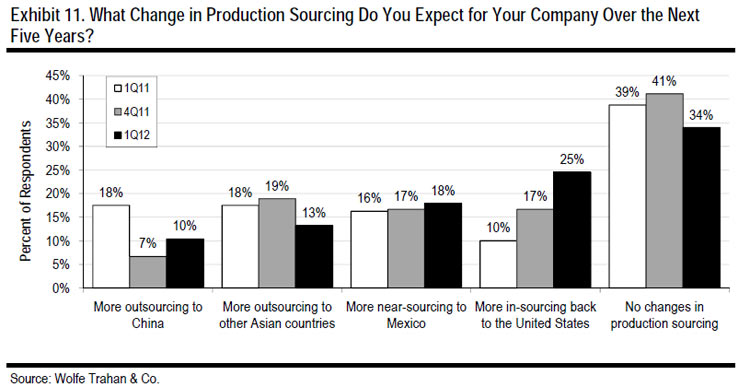 As can be seen, 25% of respondents said that on a net basis, they expect more production to return to the US over the next five years. That compares to just 10% that predict more production in China.
All told, the percent of respondents saying they expect more production in the US or Mexico (43%) far exceeds the number saying there will be more sourcing from China or other parts of Asia (23%).
Also noteworthy is the fact that the percent of respondents expecting to move more production to the US has risen substantially of late. The 25% total in the Q1 survey/Q2 report is up from 17% on the previous survey, and just 10% a year ago.
Again, your support of the MIT manufacturing survey would be greatly appreciated.