We just caught up this week with the recently released annual report from the Pacific Maritime Association, an organization of port terminal operators, ocean carriers, logistic firms that handles labor relations and union contract negotiations for its collective members.
We published a more detailed summary of the report earlier this week (see Pacific Maritime Association Says that West Coast Port Automation is Coming, but is Still in Early Stages), but thought readers might enjoy the graphic below, which summarizes a variety of statistics for 2011 for all West Coast ports (LA/Long Beach, Tacoma, Oakland, etc.).
A few things caught our eye.
For example, you will notice that number of full (loaded) containers handled in the year, at just over 15 million, reached a level not much below 2008 volumes, but still well below the 2007 peak.
Union employment levels are also down quite a bit from that 2007 peak, with just under 14,000 longshoremen for the year. Of course, that does not include drayage drivers, workers at many import warehouses and others jobs directly created by port activity.
West Coast Port Statistics 2011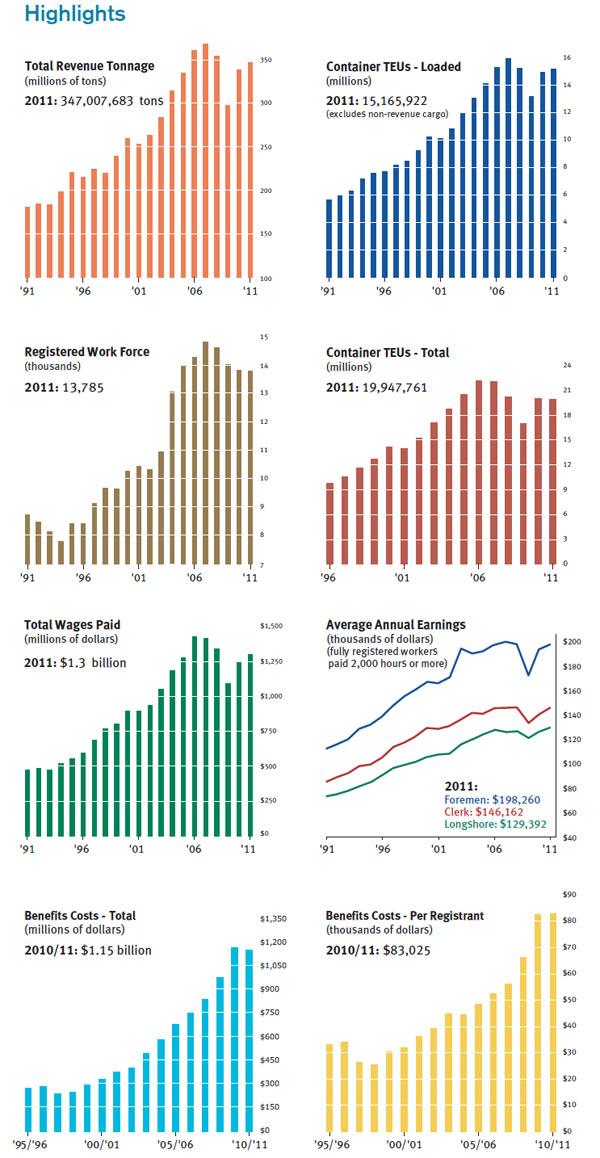 Source: Pacific Maritime Association

We also couldn't help but notice that the average annual pay for a longshoreman was $129,392; the pay for foremen was $198,260. Though we believe this includes overtime pay, still pretty hefy compensation for a "blue collar" job.
That is before an estimated $83,000 in benefit costs per IWLU worker. Wow. The health insurance program must be pretty darn good.
Have a comment? Send it at the Feedback button below.