Is this any way to run a railroad?
Depends on your point of view.(As an aside, we can't find the origin of the above phrase. If you know the source or can track it down, please let us know.)
All that just to lead into our Supply Chain Graphic of the Week, a chart from rail carrier CSX presented in its Q4 earnings call a few weeks ago that summarized its service performance in the quarter. We're not sure if CSX's results are representative of the entire industry (we couldn't find really a comparable chart from any of the other three major public rail carriers (Union Pacific, Norfolk Southern, and Kansas City Southern)), but think it is interesting to look at this data regardless.
Q4 2011 Service Performance at CSX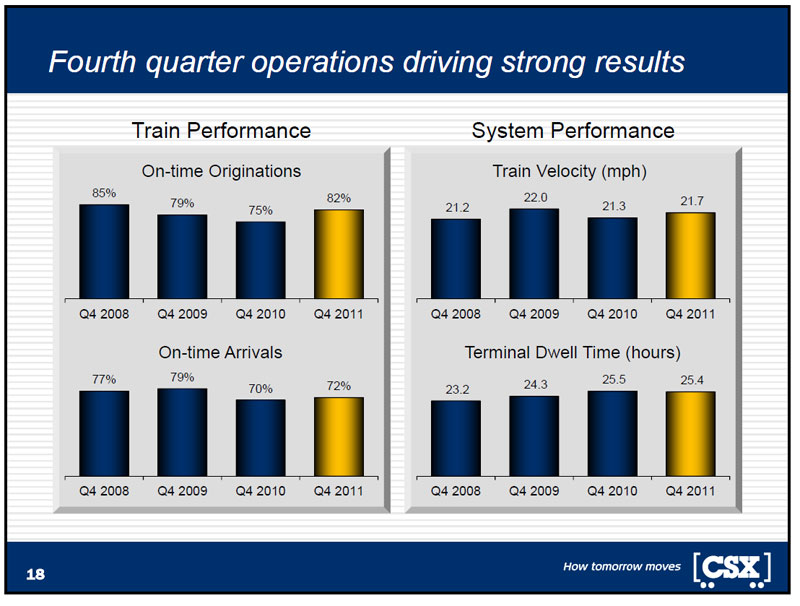 Source: CSX Earnings Call Presentation
On-time originations showed a sharp jump in the fourth quarter versus 2010, but at 82% were still three percentage points below 2008 levels.
On-time arrivals improved two percentage points over 2010, but were seven points down from 2009 and five from 2008.
Average train speeds seem to have flatlined over the past four years at 21-22 miles per hour average, thought that is probably the one metric of the four least under a rail carrier's direct control.
Finally, dwell times at rail terminals have increased steadily since 2008, up 2.2 hours over the period.
So, is the railroad being run well? There is no question that overall rail service has improved markedly over the past decade. This data, however, suggests CSX at least seem to have run into a bit of a wall in recent years.
Have a comment? Send it at the Feedback button below.