Are your company's plans for investment in material handling automation (MHA) on the rise or contracting?
The economists at the Material Handling Institute of America (MHIA) regularly produce forecasts for such automation spend, based on overall economic statistics and their own models for industry sales.
At the new MODEX trade show in Atlanta this week, MHIA as usual at such events provided an updated forecast for MHA orders and sales, as shown in the graphic below. As the fine print notes, the curve for US GDP is shifted two quarters to the right, reflective of the fact that rises and falls in overall GDP show up in investment levels in MHA about six months later.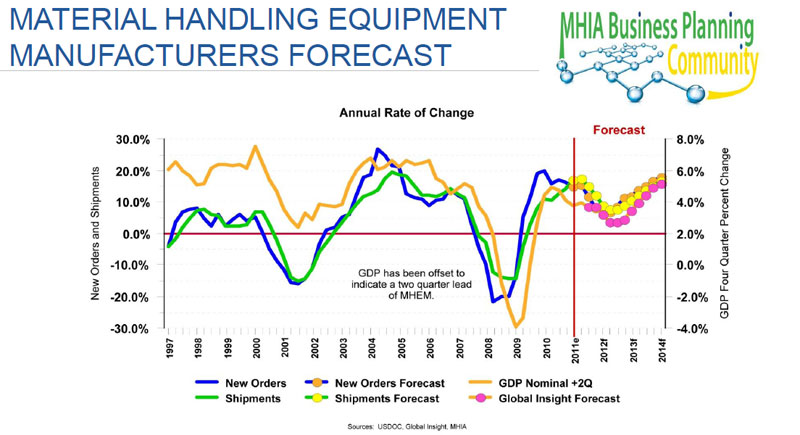 Source: MHIA
As can be seen, the forecast calls for a a decline in MHA invesrment on 2012 and 2013, based largely on the lukewarm growth of GDP in 2011 and similar predictions for 2012. That will lead to growth levels in MHA in just the low single digit percentages.
But while we respect the MHIA numbers, this time we miight have a contrary position. Despite the low growth economy, a large number of MHA vendors we spoke with at MODEX said they had very strong years in 2011, and clearly the majority seemed genuinely bullish on prospects for 2012, especially those focusing on distribution automation.
Why the disconnect? As other studies have shown, even with a mediocre economy, companies have a lot of cash right now, interest rates are extremely low, and many are looking at automation to reduce labor costs and keep costs flat even as volumes increase.
We are bullish on MHA right now, and think if your company has been hunkering down, it may be time to take a look at what the potential benefits could be - your competitors may be making their moves right now.
Have a comment? Send it at the Feedback button below.