Consistent with the theme of SCDigest's editor Dan Gilmore's First Thought column (see P&G's New Service as Measured by Customer - Supply Chain Industry Inflection Point?) focused on the consumer goods to retail value chain, our supply chain graphic of the week presents some interesting data on who really controls the profit margin in this sector.
As shown in the chart below, from a recent report by the McKinsey Global Institute, consumer goods manufacturers now take an incredible 69% of operating profits from the joint value chain, with just 31% going to retailers - and the manufacturing share continues to go move higher.
It was less than 50% in 1998, and McKinsey says that barring changes by retailers, their share is likely to get futher squeezed in coming years, due to developments like more and more on-line pricing comparisons by shoppers. It notes such tools as RedLaser, for instance, a mobile phone app that let shoppers scan the bar code of an item in-store and obtain immediate price and product comparisons across retailers and manufacturers.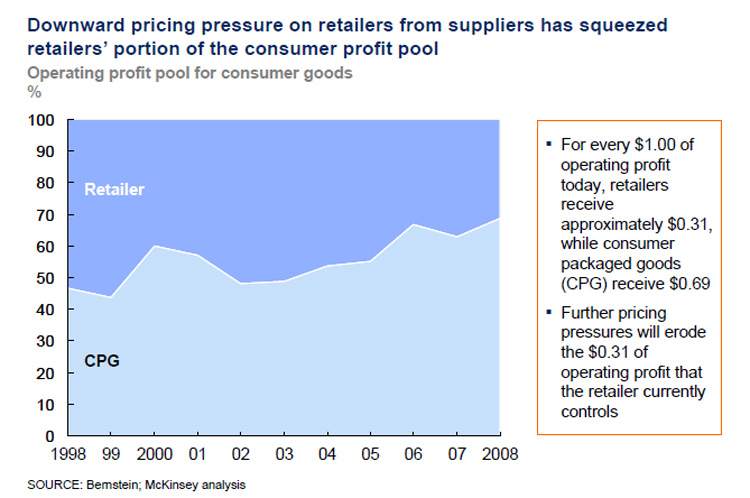 Source: McKinsey Global Institute
McKinsey doesn't really explain why and how that this trend occuring, but we will note that the same trend can be seen in many other sectors, where the final seller takes the brunt of the pricing battles and pressures, and the manufacturers keep their margins pretty strong.
In the supply chain, for example, manufacturers of products such as wireless RF terminals in logistics or bar code printers have maintained pretty stable and high margins (say 50%) over the past decade , even as resellers such as VARs have seen margins shrink to maybe 15% and in some cases even less, down from 20-30% in the past.
One last question: do you think the profit share split is the same with Walmart and its suppliers? Walmart operates on low margins, but usually drives very low prices with its suppliers, so we're not quite sure.
Have a comment? Send it at the Feedback button below.