What is the state of US manufacturing, and how does it compare with the rest of the world?
That is among the questions asked and answered in a recent article from some consultants at Booz & Company (formerally Booz Allen Hamilton before it split itself in two recently).
We summarized the first half of that excellent article earlier this week ( A Comprehensive View of Opportunities and Risks for US Manufacturing), which said that US manufacturing is actually in better shape than many think, but that it is at a key inflection point that must serve as a "wake-up call" for policy makers and manufacturers to either reenergize production in the US or see it drop significantly in coming years.
From that article is the graphic below, which shows the growth in value-add in manufacturing in different countries since 1980. Value-add is the difference between what the cost of materials, components and other sourced inputs versus the selling price product. In other words, if components were made in China, China would be credited for some value-add there, and if those components were exported to the US and assembled here, the US would be credited for the value-add created by that process, subtracting the cost of the components from the sell price. (We wonder how internal transfer costs/prices are handled here, just as an aside.)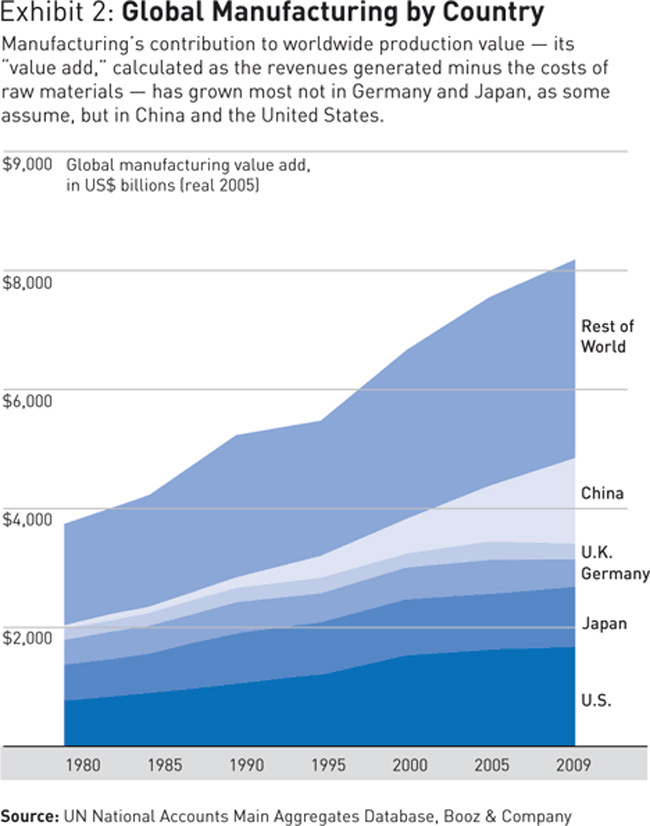 Source: Booz & Company
As can be seen, US growth in value-add climbed steadily until about 2000, and then largely flatlined. It seems no coincidence to us that this coincided with the growth of China's manufacturing sector, its entry into the World Trade Organization (WTO) in 2001, and the offshore/low cost country sourcing strategies pursued by many Western companies that really spread during the past decade.
Still, as the article notes, the US performance has been better than the UK, Germany and Japan, and at just under $2 trillion annually is still quite a bit higher than China's total.
However, China's total continues to rise at a very fast rate - topped only by "rest of world," where as can be seen the numbers are soaring.
The article notes, however, that regional manufacturing strategies, rising Chinese wages and other factors offer hope for many US industrial sectors.
Have a comment? Send it at the Feedback button below.