There is quite a bit of buzz coming from a recent Wall Street Journal story that said Procter & Gamble, among other companies, is significantly changing its product development and go-to-market strategies to put much greater emhphasis on the down market, meaning lower income consumers.
Why? Because that's where the growth is. And we don't mean just in developing countries - it means right here in the US. (See Procter & Gamble, others Target Low Income Consumers, not Just in Emerging Markets, but in the US.)
The middle class, long P&G's core market, is being squeezed, as the recession, low wages, etc. continue to take a toll, with a likely permanent impact.
Supporting this theory was another recent report by market analysts at Citibank, who are pitching an idea called the Hourglass Consumer Theory for retailers, as illustrated below.
The basic conclusion: as the economy bifurcates more substantially into the haves and have nots, retailers catering to the high end and the low end may have bright prospects, but those targeting the middle market are likely to struggle.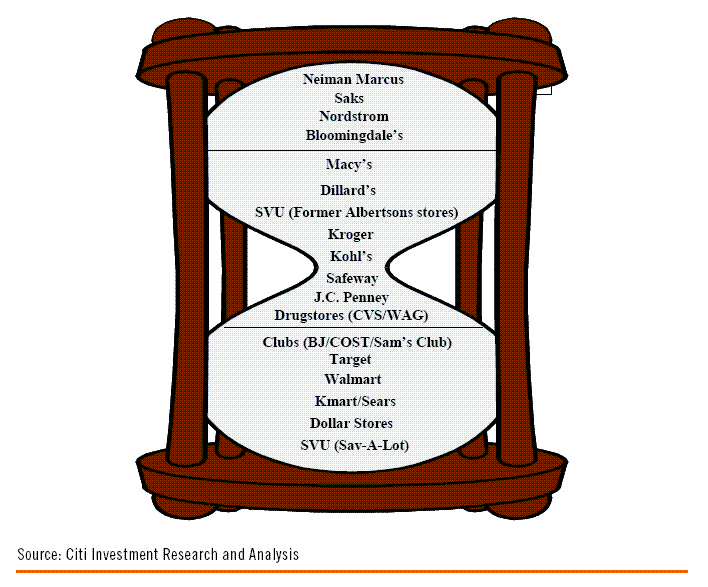 To the extent this is accurate, there will be a number of supply chain implications, in terms of support for product strategy (more lower priced goods), distribution channel/pattern changes and more.
P&G says it believes the low wage growth environment is likely to persist for some time, and that this is not likely to change quickly even if the economy recovers.
We will note, however, that this is far from the first time that predictons for the collapse of retailers targeting the mid-market, and those retailers usually find better times ahead before long.
Still, seems we are in a simply different era right now, and this is surely worth following and understanding, for supply chan reasons and beyond.
Have a comment? Send it at the Feedback button below.