I am just back from a week in Atlanta, two days at the MODEX trade show in Atlanta, followed by another two days at the Logility software Connections user conference . Both were very interesting. Here I will report on MODEX. More on the Logility event next week.
MODEX is a new show from MHI (Material Handling Institute) first launched in 2012. It will run every other year, rotating with the long established ProMat event that runs in odd numbered years in Chicago.
Our materials handling editor Cliff Holste and our Supply Chain Television Channel's Jim Stephens joined me at the World Congress Center in Atlanta, and as usual thousands of you have viewed our day 1 and 2 video reviews of key themes and interesting new solutions, including actual clips of most of these solutions. Thank you. You can view those videos here: MODEX Day 1 and Day 2. Next week, we will break out each new solution into individual videos so you can more easily review just what may be of most interest.

With regards to "goods to person," for example, there are quite a few "shuttle" based deployments versus a relative few to date in North America.

---

The show was much larger this year than in 2012, covering about 200,000 square feet of floor space, versus 145,000 or so in 2012. That's about a 33% rise - quite impressive. I did not get officials attendance numbers, but the crowds were clearly strong, so this was a real winner for MHI.
When launched in 2012, MHI also had the goal of making this more of a full supply chain show than just materials handling and logistics/WMS software. That in my view was really not much achieved in 2012, but progress in that direction was clearly made this year. While materials handling (equipment and consultants) and core logistics software still of course dominated the floor, there was in fact a broader spectrum of exhibitors this year covering various aspects of the supply chain. Two that I had nice conversations with, for example, included a new ocean container rate benchmark service and the blimp guys - more on that one in just a bit.
Cliff and I, however, believed that the two key themes in terms of solutions out at the event were both materials handling related and continuations of trends we have seen in the last few years: (1) a variety of "goods to picker" technologies, especially with a view to powering efulfillment; and (2) automated case pick and related mixed-SKU palletization technologies. There is a lot out there in both areas to look at and choose from in terms of the numbers vendors and technology approaches.
At present, Europe as a whole is much further ahead in deployment of such advanced automation than is the US. With regards to "goods to person," for example, there are quite a few "shuttle" based deployments in Europe from vendors like Dematic, TGW and others, versus a relative few to date in North America. With regards to automated case picking, the focus area remains overwhelmingly the beverage sector, with more general food and consumer packaged goods companies waiting to see how things develop there.
Both these technology areas are advancing nicely in terms of sophistication and proof points.
In more general news, in what we believe to be an exclusive, a senior manager at Kiva Systems confirmed to SCDigest that despite having a large booth at the show featuring its iconic orange robots that might be said to have started the "goods to picker" era, it was not going to be selling the system to anyone other than now parent company Amazon any time soon.
Some, including me, wondered what was up when it became clear Amazon/Kiva would have a booth space at the MODEX show, but it turns out the Kiva robots were really just there as attention grabbers for Amazon's goal of recruiting managers and supervisors for the massive build out of fulfillment centers that continues on for the on-line giant.
And that build it is why, after a review not long ago, Amazon will not still sell the Kiva technology to others. Kiva is simply consumed in terms of manufacturing and deployment resources to keep up with Amazon's FC roll out - there is just no capacity for anyone else. And this work is only for new FCs in North America - it doesn't even include international DCs or potentially retrofitting existing FCs.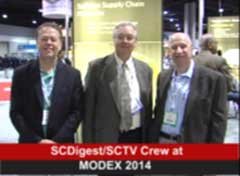 This then leads to the conclusion that rather than acquiring Kiva for some $775 million in a surprising move in 2012 to keep the robotic piece picking system out of the hands of competitors, it was instead largely to lock up Kiva's capacity for X number of years, capacity that would have had to share with others over that period. While our source said this position will be reviewed again in a couple of years, I believe it will be 4-5 years before Kiva returns to the open market - at which point Amazon is likely to spin the firm back out as an independent company or sell it to an existing large materials handling system provider.
We covered some 14 different solutions in our two daily video reviews, which I clearly don't have room to detail here, so rather I will offer our top five most interesting new products, in random order:
An upgraded automated label print and apply system from Bell + Howell: The key feature here is the ability to use so-called "linerless" labels, which have no backing paper but rather are just constructed like a roll of tape. This has a number of advantages, including being able to fit 70% or more labels on a roll, a "green" angle from getting rid of the need to dispose of the liner material after the label is removed, and the ability to print variable length labels. Bell + Howell does not produce the labels, but has perfected the advanced "cutters" needed to make this work, a technology developed with big money from a major US Postal Service contract. Definitely worth a look.
Integrated Systems Design (ISD) has released a new "mid-load" AS/RS system that fits between a mini-load system and a full blown AS/RS. That approach, which works at a height of up to 35 feet, allows the company to deliver a system at a much lower cost per storage position. The design also allows the center crane to be easily removed and replaced with a standard very narrow aisle truck, allowing the system to keep working in manual mode in case of a failure. Cliff believes this can open up an AS/RS solution to many more companies.
A company called QTek Design released a simple but witty system to allow pallet riders, fork trucks, etc., to extract an empty pallet from something like an upside down Pez candy dispenser, if that makes any sense, in just 10 seconds, without getting off the vehicle - or the operator slamming the pallet to the floor from wherever the stack is. At $30,000, it seems almost a no brainer for many companies.
.
Changing gears dramatically, a company called Folded Pack has an innovative new product to replace foam, peanuts, etc., to fill cartons after picking/packing. It is a thin cardboard-like material that is delivered in a flat stack, which is then run through a machine that creates three-dimensional structures about 1-inch across (see Day 1 video) that are surprisingly strong. All fully recyclable of course, with high product protection values, and Cliff and I both agreed we would much rather get a ecommerce box with this stuff in it rather than peanuts. We think you will like it.
And my favorite, a blimp-like aircraft developed under funding from the US DoD by a company called Aeroscraft that is now going after the commercial market to move heavy freight and/or to get to hard to reach areas. Think, for example, about delivering huge pipes to oil or natural gas pipeline projects in sequence. Or picking up many containers of produce right in the field. There are more applications than you might think. The company plans to build a fleet over the next few years that will be available for lease for some period of time. The largest craft will be capable of carrying an amazing 250 tons of cargo.
Vocollect/Honeywell wins our best marketing award from an innovative "sound booth" display that effectively demonstrated how its innovative new headset can filter out even heavy background noise from conveyors, horns and such to deliver clear Voice commands and responses. When we were there, a very , very large transport company was showing great interest.
That's it. You will find more in the videos.

Any comments on our MODEX 2014 review? Did we miss any cool new products? Let us know your thoughts at the Feedback section below.