Walmart is important to the supply chain for a number of reasons. First, Walmart is clearly perceived as one of the icons of supply chain excellence, and in fact would almost certainly be named the top supply chain in the world if we could somehow put it to a vote. (Actually, US consumer goods manufacturers do hold a vote each year in the annual Kantar Retail study, and Walmart always wins by a massive margin – see Top Retail Supply Chains for 2011).
That said, most can't really articulate why Walmart's supply chain is great, other than to recite the overused example of it knowing to bulk up on pop tarts when hurricanes are approaching. More on this question some day.
Second, because of its massive sales numbers, Walmart has far more total vendors than anyone else in retail, and represents a substantial portion of sales for thousands of these vendors. Even for large consumer packaged goods companies, Walmart can represent 30% of total US sales, and 15-20% of the total is very common. For specialty vendors (say fishing lures) the percentage can be much higher. That gives Walmart incredible clout and influence over the consumer goods sector, and no question at the heart of that control is logistics (I am not quite ready to say supply chain yet).


No question Walmart is no longer the bad guy many had seen it as before, even as there have been little change in many of the areas that used to draw the complaints.

---

So that brief introduction to some commentary on Walmart's just released Sustainability report for 2012. Former CEO Lee Scott pushed Walmart aggressively into the Sustainability game in the middle of the last decade. I am convinced based on interviews I have seen and read with Scott on the topic that this really was mostly from the heart – Scott believed this was the right thing to do. But it didn't hurt that at the time, Walmart was a generally despised company in many quarters. The criticisms included low wages, being non-union, destroying Mom and Pop retailers, destroying American jobs as the world's largest importer, discriminating against women in terms of promotions, who knows what else. The unions ran television ads and built webs sites specifically against Walmart.
Many of those criticisms are still out there, but there is no question they have been muted in recent years – and a good part of that is Walmart's aggressive stance on Sustainability in all its dimensions. Many mostly on the left that might normally be anti-Walmart found the company was on their side on the environment and more. I don't want to get political here, but no question Walmart is no longer the bad guy many had seen it as before, even as there has been little change in many of the areas that used to draw the complaints. It has been an incredible smart PR move. Walmart is now often seen arm and arm with those who might have been critics in the past. It had First Lady Michelle Obama on the podium with its executives last year announcing programs around healthy food, for example.
The 2012 Sustainability report is simply staggering. It comes in at 121 pages. Do you think Sustainability for Walmart is mostly related to the environment, energy and CO2 emissions? That's a big part of it, but there is a lot more, from locally sourced produce to economic development for woman to providing general job skill, training to youth in Brazil, selling healthier foods and much, much more.
Now, Walmart is far from being the only retailer on this course. The UK's Sainsbury's grocery chain is following on a similar path, for example, but can't match Walmart's scale in terms of number of initiatives and certainly global reach.
The report lists dozens of programs. In truth, reading this document feels like you might be reviewing some mammoth tome from the United Nations or some major governmental agency – except they would be largely touting plans and unrealistic goals, while Walmart is actually getting it done. Amazing really.

Much but certainly not all in the report does connect to the supply chain, and many of the initiatives there are quite interesting. Here are some of my favorites:
• Continued Reduction in Waste going to Landfills: Walmart says that last year, 80.9% of its physical waste in the US was recycled, and that this was worth some $231 million to its bottom line from recycling revenues and other cost avoidance. It says that its ASDA stores in the UK sent zero waste to landfills.

• Local Produce Sourcing: Per earlier announced initiatives, Walmart says last year it increased the amount of locally grown produce it sells by 97%, and that local now accounts for more than 10% of all produce sold in its US stores. It aims to double the amount of locally grown produce it sells on the US by the end of 2015 from 2010 levels.

• Sourcing from Women-Owned Businesses: In 2011, Walmart committed to sourcing $20 billion over the next five years from women-owned business in the US and doubling such sourcing globally.

• Lowering Costs of Organics: In a move not popular with other retailers, Walmart said last year it would largely eliminate the price premium for organic produce, which it says saved its customers $1 billion last year in total.

• "Great for You" Icon: In January of this year, Walmart announced plans for a "Great for You" icon to help consumers easily and quickly identify healthier food options. It will appear in Walmart US produce areas this summer and on its private label Great Value and Marketside items that meet nutrition criteria beginning this fall. The icon will also be made available to national-brand products that qualify.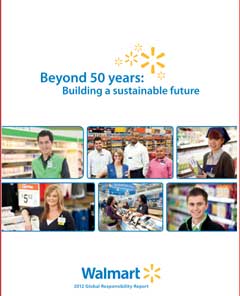 • Integrated Sustainability Index: Last year, Walmart began to integrate a supplier Sustainability Index into its business into terms of scoring vendor product offerings. Over the past year, Walmart says "We used these metrics to develop our first category scorecards to help our buyers evaluate.

• Focus on Safety in the DC: Walmart says that last year, it announced a new Enhanced Behavior Based Safety Program for its US logistics operations. A key concept of this program, which will be fully rolled out over the next couple of years, is called "Actively Caring," which it says is "moving beyond simply caring about others, to acting on that caring or sense of responsibility. This concept teaches our associates to look after their own safety, and also to look after the safety of their fellow associates. By implementing this concept, as well as others, the network can achieve a Total Safety Culture."

• Transportation Network Optimization: Walmart also says that it has achieved a 69% improvement in fleet efficiency in the US over its 2005 baseline. That means it delivered 65 million more cases while driving 28 million fewer miles over the baseline, results achieved by increasing the number of pallets per trailer and better managing its routes.

• Ethical Sourcing: Walmart says that it audited 96% of its supplier facilities for private label type merchandise last year (against a goal of 100), and that 94.8% of direct import factories have received one of the two highest ratings under its evaluation system (against a goal of 95%), among other improvements in this area.
You get the idea. What interests me most are two things: First, will all this really payoff to the bottom line in the end, versus other things it could be doing with its time and money? Current CEO Michael Duke, who inherited the program from Scott, sure seems to think so. He in fact says that these Sustainability efforts are essential to keeping Walmart as the low cost provider in the industry. Maybe so – time will tell. (2) Does Walmart's massive global scale allow it to do these social things in far off lands that will be simply unmatchable by local or other transnational competitors?

This last point of course is especially salient this week, as the New York Times reported that Walmart used bribes in the 2002-2005 period to grease the wheels for rapid expansion in Mexico, then deep-sixed the internal investigation that found there appeared to be real issues. (See Walmart Suddenly Embroiled in Scandal over Alleged Bribery in Mexico - and more Importantly the Cover-Up). If true, as alleged, it means that Walmart not only broke US and Mexican law, but used those bribes to build up its now dominant Mexican retail empire faster than competitors could react.
As this embarrassing and perhaps damaging potential scandal unfolds, one thing is for sure: Walmart's Sustainability efforts have given it some protection here and abroad it never had before.
How do you think about Walmart's massive sustainability program? Will it all pay off, or is it of risk of extended itself too far and taking its eye off of core operational matters? Will this Mexican issue do any really damage? Let us know your thoughts at the Feedback button below - responses kept anonymous upon request.